​Once Upon a Chocolate Chocolatiers Inc offers a taste of happily ever after. From our storybook packaging to our decadent fondant filled chocolates, customers will be transported to a familiar world of fantasy and fairy tales. We want people to share a high-quality chocolate, and a story that will create moments and memories that last long beyond their second or third piece. Whether it's a moment shared between parent and child, perhaps a gift for your first date, or something special to share with your grandchildren, Once Upon a Chocolate will enrich your own story and help write a new one with someone special

Sarah and Patricia Demes have been making their homemade hand dipped chocolates for 5 years using their unique fondant recipe that requires real cream. They started out by giving their chocolates as Christmas gifts to friends and family, but it wasn't until after they received high praise for their chocolates when they donated some to the Galt Museum's High Tea event that they decided to make chocolate making into a full time business. Even though the chocolatiers are still in the process of getting their business up and running full time, they still have high dreams and imaginative ideas for their chocolates that will have their business off the ground and sailing across all of southern Alberta in no time!

Powered by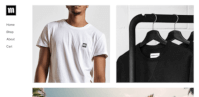 Create your own unique website with customizable templates.